Target countries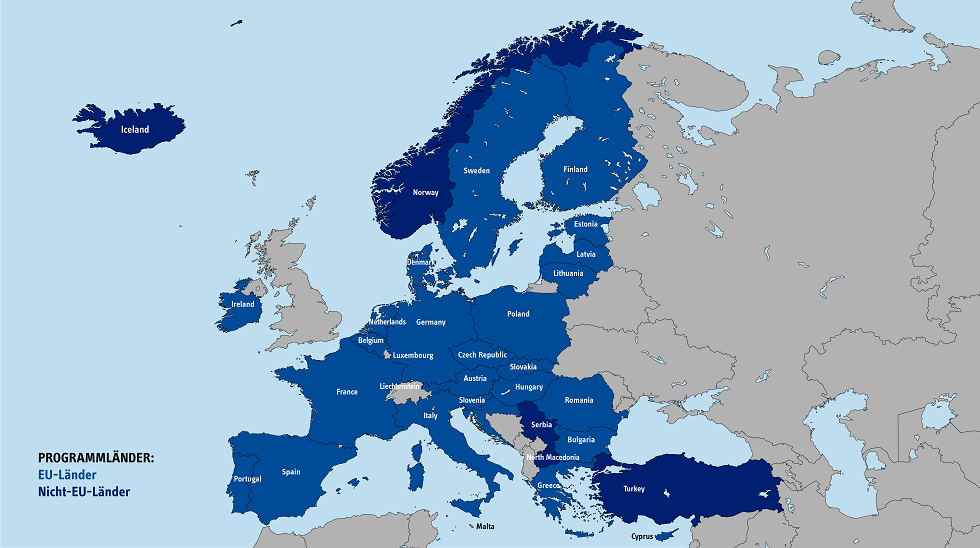 1. Target countries: all EU countries (except Germany)
! UK: internships in the UK can still be funded by Erasmus until 31.5.2023 (as long as funds are still available), but require an elaborate visa procedure.
2. Other programme countries: Norway, Iceland, Liechtenstein, Northern Macedonia, Serbia, Turkey
Internships Worldwide: As of 2021, up to 1/5 of the scholarships in the Erasmus programme can in principle also be awarded to other countries worldwide.
Current status: The EU funds we applied for have been cut, so we are currently not funding any internships beyond the programme countries. Please apply for promos via the International Office at your university.
3. Partner countries Western Balkans: Further funding opportunities exist for Albania, Bosnia and Herzegovina and Kosovo.


Country-specific grants.


Overseas territories of the EU
Internships in these territories can also be funded.
Aruba (NL)
Bonaire (NL)
Curaçao (NL)
French Polynesia (FR)
French Southern and Antarctic Territories (FR)
Greenland (DK)
New Caledonia and Dependencies (FR)
Saba (NL)
Saint-Barthélemy (FR)
Sint Eustatius (NL)
Sint Maartin (NL)
St. Pierre and Miquelon (FR)
Wallis and Futuna Islands (FR)